Find your inner athlete.  Let me show you how.
Would you like to run faster, recover quicker, stay injury-free?  Maybe you just want to lose a little weight and but your busy lifestyle means that training right and eating right are the first things to get cut out.
Having a guide can be the solution.  It doesn't matter if you are just beginning your running journey or you've been running for years, having a dedicated, personal coach by your side through the ups and downs can help you reach your potential.
As an athlete, I cut over an hour off my marathon time, becoming a state Master's Marathon Champion using the expert advice, research, and talent of the coaching at Runners Connect.  Eventually I became a coach with them myself, where we coach anywhere from 600-700 athletes from beginners to sub-elites.
Becoming a part of so many success stories has been one of my greatest joys.
"Coach Claire is the perfect mix of running knowledge and relatability! She has a knack for distilling the science down into easy-to-understand principles so that every workout and its placement in a training cycle makes sense. She seems to know when to push me outside of my comfort zone, when to hold me back, when I need encouragement, and when I need someone to believe in me." Laurie H.
Now I am offering personal, individualized coaching directly to you for $149/month.
Each month you will get a uniquely customized training plan, built by me only for you.  No algorithms, cookie cutters, or one-size-fits-all.
You will be able to email me when you want about what you want and I will comment on every workout.
Your plan will be fully adjustable any time for illness, travel, or anything unexpected.
If you are training for a race, I will create a custom race plan for you that is specific to the course with tips, advice, and pacing strategy.
Also included are weekly nutrition tips and recipes, mental strength training, drills, strength training videos and more!
"Claire is a gift. I've been fussing and fretting about my training for weeks now. This feels so much better and right for where I am right now!" Tony W.
One of the most satisfying part of coaching is working together with an athlete to craft a training plan or racing strategy that sets him or her up for success.  Jay is a great example of this. Here's what he said about his recent half marathon where he crushed his dream goal of 1:27: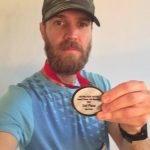 "Running under 1:27 was absolutely awesome. Coach Claire and I weren't sure if I could run 6:30 pace when I was tired. Turns out I can't. I can run 6:20's!  I ran a conservative first half (thanks to good insight from Coach Claire) and had a strong finish. Instead of getting caught up trying to run with the lead pack I let them go early and just ran my own race.  I'm ecstatic!" Jay M.
It's time to invest in yourself.
If you are ready to take the next step in your fitness journey, email me at claire@runnersconnect.net to get started today.