Well, that didn't take long.  I really didn't want to make a gel out of maltodextrin.  Without really knowing much about it, maltodextrin just seems like a weird laboratory concoction that companies must use because it's cheap or shelf-stable or something.  It can't possibly be good for you and it's about as far from a whole food as it gets.
So why did I change my mind?  Science.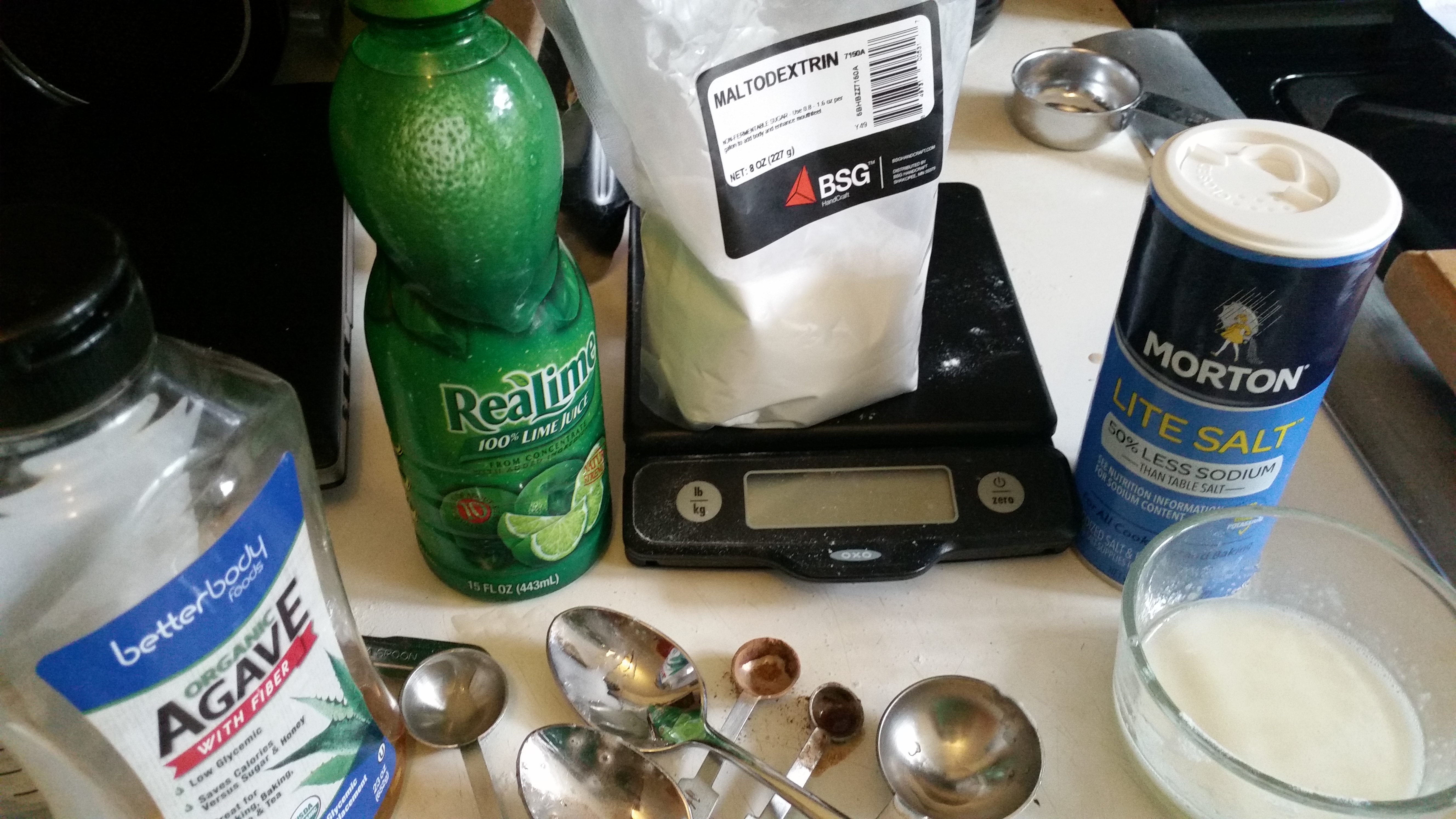 What in the world is maltodextrin anyway?  It's a powder that is created from a starch (usually corn, but any starch can be used, like wheat or tapioca) by adding some acids and enzymes.  It is technically a complex carbohydrate, but it acts even faster than simple sugar in the body.  When you are exercising hard, you want the fastest fuel available (in other words, something with a super-high glycemic index) to get glucose to your muscles and maltodextrin is it.
For a really in-depth analysis of carbohydrates specifically for running, check out The Science of Energy Gels. I love this site!  Jonathan Savage has broken down exactly what the most popular and obscure gels are made of and what they do in the body.  One of the many eye-opening things I've learned is that the difference between complex and simple carbohydrates only refers to how heavy the molecule is, not how fast the carb hits the bloodstream.  Small molecules are simple and big molecules are complex.  But as Savage writes, "This division into simple and complex is unfortunately crap (biochemistry term meaning 'not useful')."  So simple carbs like fructose have a low glycemic index and are slow to digest while maltodextrin digests quickly.  And it's even faster than pure glucose.
But speed of digestion is only part of the story.  Ever wondered why every commercial gel pack instructs you to drink water with it?  That's because in order to process the carbohydrate, your body needs a certain amount of water and each type of carb requires a different amount.  Maltodextrin requires six times less water than glucose and frutose!
This is the part that convinced me to try it.
Why does the amount of water matter?  Obviously you are going to be drinking fluids during a marathon, so is this really even an issue?  YES!  A gel with 20 grams of maltodextrin (and nothing else) requires 2.2 ounces of water to become isotonic (fancy word for becoming the same concentration as your blood and therefore absorbable) and a gel made with fructose or glucose needs a whopping 12.8 ounces!  If you take 2 gels an hour, you'll need to fill your stomach with 2 and a half pints of water, just to absorb the gel. If not, it will just sit in your stomach, probably causing all sorts of gastro issues.  Not to mention that means you need to stop 6 times an hour at water stations and drink the entire 4 ounce cup without spilling.  Yeah, right.
So why do I add fructose at all?  Since there are different pathways in the body to metabolize fructose, adding a little to either maltodextrin or glucose allows you to absorb more calories of carb per hour than either carb alone.  More calories per hour means more energy!  I'm willing to trade drinking a little extra water for more calories.
So where do you get maltodextrin?  You can buy an 8-pound tub on Amazon, which would make about 181 gels for $23.  I chose to go to my local homebrew supply store and buy 8 ounces for $1.50, just to be sure I liked it.  It works out to be about the same per pound, so I'll support local.
Enough science!  Here's the recipe for chocolate. Sub a teaspoon of lemon or lime juice for the vanilla and cocoa for a citrus flavor.  For peanut butter, swap the cocoa for 2 teaspoons of peanut butter powder like PB Fit.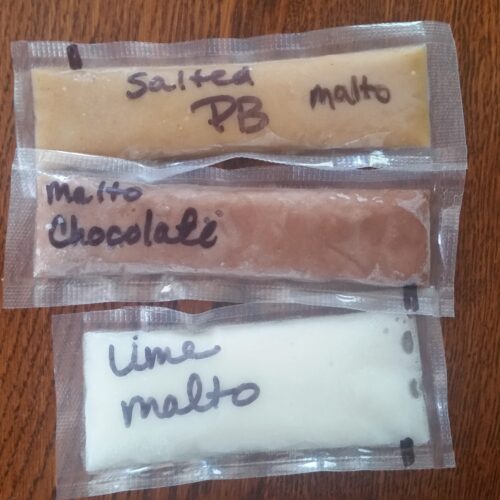 Chocolate Copycat GU Gel
Create your own chocolate race fuel!
Ingredients
20

grams

maltodextrin

(8 teaspoons)

7.5

grams

agave

(1.5 teaspoons)

1/32

tsp

salt

1/8

tsp

vanilla

1/4

tsp

cocoa powder

2

tsp

water

1/32

tsp

Morton's Lite Salt
Instructions
Mix all ingredients in a small bowl until smooth

Pour into a gel flask or custom-made FoodSaver bag
Notes
146mg sodium
87.5mg potassium
28g carbohydrate