I ran in the woods today.  Perhaps that's not some grand statement, but for me, a mid-week, mid-day trail run is a bit of an accomplishment.
I'm good at excuses for not trail running.  It's a hassle to plan and drive 10-15 minutes there and back when I can just run from my door.  For me, trail running is usually more strenuous than road running even if I take it slow, so running trails on an easy day doesn't feel easy.  I can't always get the mileage I want in since it's so much slower. And while I like running with others especially on trails, I need to be flexible with my work and family schedule so I can't always commit to a run with others during the day so I need to run alone on trails most of the time.  (Should I not run trails alone?)  Another valid excuse is that I'm a klutz and typically fall over roots and rocks that seem to hurl themselves at my ankles.  The only way to avoid this is to pay complete attention to the six feet of trail in front of me at all times.  That much focus gets exhausting, especially when I can just run on roads and zone out to music or a good podcast.  When I'm training for a road race, I seek out the most course-specific routes which means trails get nixed.
Those excuses are pretty weak sauce.  I'm not training for a race.  Training my brain to get good at focusing on what's in front of me is the epitome of living in the moment.  Running in the woods alone is not only okay, but it's a really good thing.  Mileage isn't that important right now.  Taking on the challenge of trails will make me stronger.  The 10-minute drive is a stupid excuse and I'm lucky to live in such an amazing place where trails are so close.
And it's hot.  Not desert hot, but sticky-humid hot.  The kind of hot where you can see waves of heat radiating from the black asphalt and your skin glistens with sweat as soon as you run 20 feet.  Add in the bright sunshine baking everything not under protection of a tree and the only respite for runners is the woods.
So I ran an 8-mile loop in Bent Creek today with 1200′ of elevation gain and loss (Strava says 1000′ and Garmin says 1200′ so I'll take Garmin's!).  It's a loop I've done many times before when I was trail running weekly.  The hard part comes first and then mostly drops after you get to the view at Five Points.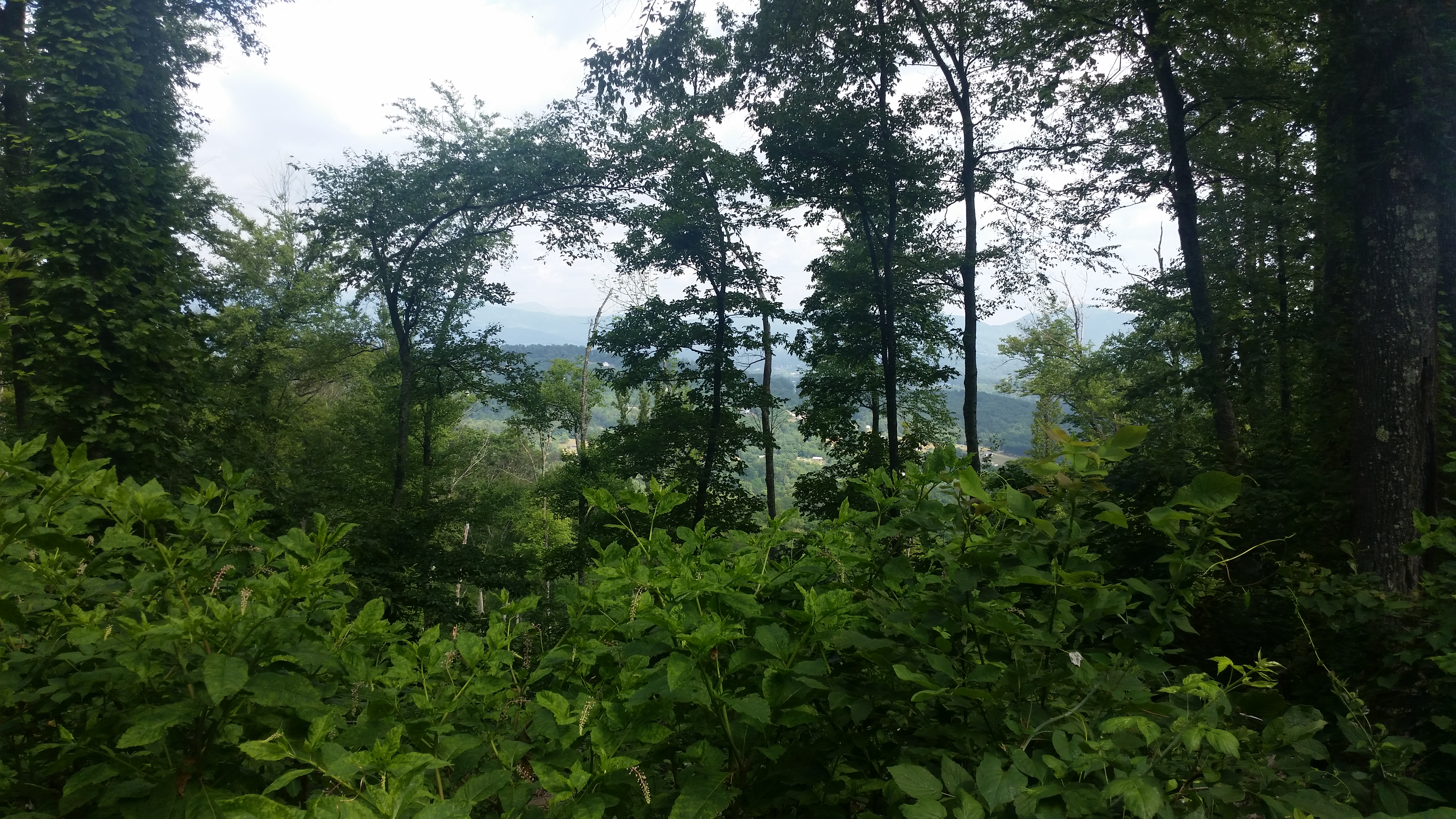 Bent Creek is a popular spot for running and mountain biking so it's rare to go 10 minutes without passing someone, even in the middle of the work week.  This is one of the reasons I feel safe running alone there.  If I hurt myself, I know someone will be along eventually.  I carry my phone as well, even though service can be spotty.  I know there are many women who are not comfortable being alone in the woods, but I'm not one of them.  I'm not willing to let fear get in the way of what I want to do in life, but I also take precautions.  (This is a great read from Oiselle's site about running alone.)
I took my time today and stopped when I felt like it and flew down the gravel road at the end, just for fun.  It was still hot out, but not at all unbearable.  It was a nice change of pace to listen to birds and the rushing creeks instead of whatever's in my earbuds.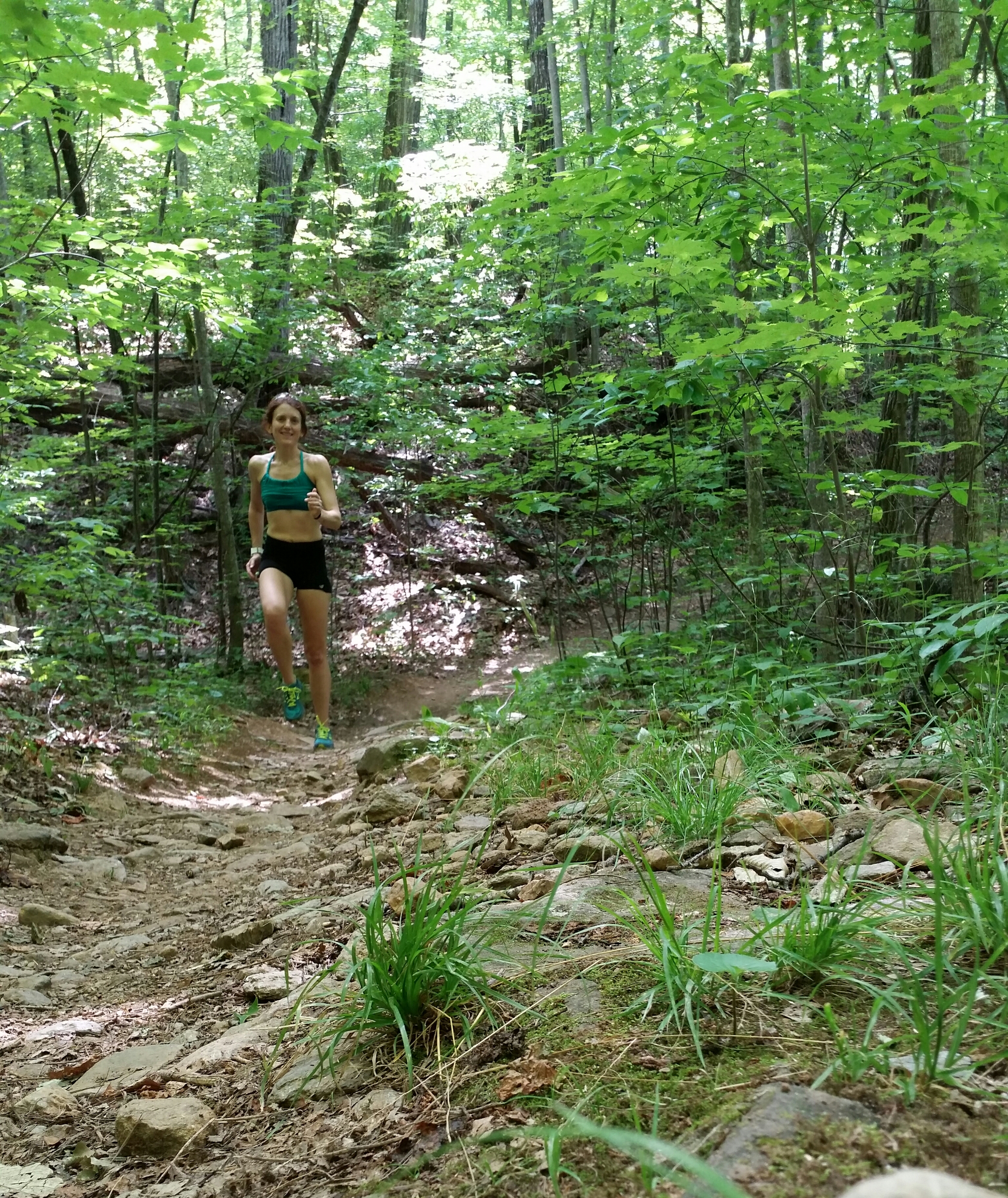 I forget sometimes how good nature is for the soul.  It is refreshing to just disappear for a little while and then emerge a little bit renewed.
I am committing now to trail running once a week for the summer.  Not only will it make me a better athlete, but it might even have the power to make me a better me.