This is one of those times I wish I had a "before" shot.  The front garden bed of our house has pretty much always been a mess.  It's a sunken clay bowl where nothing but weeds wants to grow.  Every time I walked from the front door to the car and back, I'd either try to pretend nothing was wrong or shake my head and sigh.
Not anymore.
But first a little history.  Our house is a 1918 Georgian revival that we purchased in 2007 from a domestic-violence shelter non-profit.  While the bones of the house were amazing, everything else needed to be addressed to turn it back into a single-family home.  There were massive fire alarm boxes and interior security flood lights.  The ugly dropped ceilings covering the cracked plaster had shoe-sized holes from when kids on the top bunks would kick through them. The steel front door could only be opened by an indoor buzzer.  There was a wooden fire escape climbing up to the second story on the back of the house.  And there's a handicapped-friendly ramped sidewalk that extends from the front porch to the driveway.
Over the past nine years, we have slowly changed almost everything.  We replaced prison-like steel front door the first week.  The inside emergency lights and rickety wooden fire escape came down.  The ceilings are now smooth.  But we've kept the concrete ramp to the front door because we like it.  It makes life so much easier to come in and out, especially with furniture or groceries.  But the useless pressure-treated handrail that flanked the ramp remained an eyesore.  There is no drop off that it protected people from, it just was there to cage in that ramp and make the home feel like a hospital.  But with such a long list of more important things to update, the ugly handrail stayed.
Until last week.
I had decided to tackle the weeds in the front yard and work on the slope so water would drain away from the house better.  We had installed a french drain years ago, but we had never really dressed it up or sloped it properly.  The only things that were happy growing there were dandelions and overly invasive English ivy. Once I started pulling weeds and moving rocks around, Paul came out and took down that awful handrail.  Good plants that had all but given up trying to grow in the heavy clay soil were yanked out and I started fresh.  Once I started creating an aesthetically pleasing rock garden, I had an idea:  HERBS!  How nice would it be to walk past a rocky herb garden everyday?  I could snip a sprig of parsley or basil for dinner right out my front door!
Once I had cleared out a nice section, I thought it looked like a perfect spot for some kind of ground cover.  Strawberrries!  We have a small strawberry patch in the backyard, but by the time we got down there to pick them, the birds or the bugs usually had their way with them.  If they are right outside the front door, we are much more likely to harvest them as soon as they are ready.  I dug out a few from the back yard and planted a new patch in the front.
When the kids came home from school, we painted rocks to look like strawberries and placed them by the transplants.  So cute!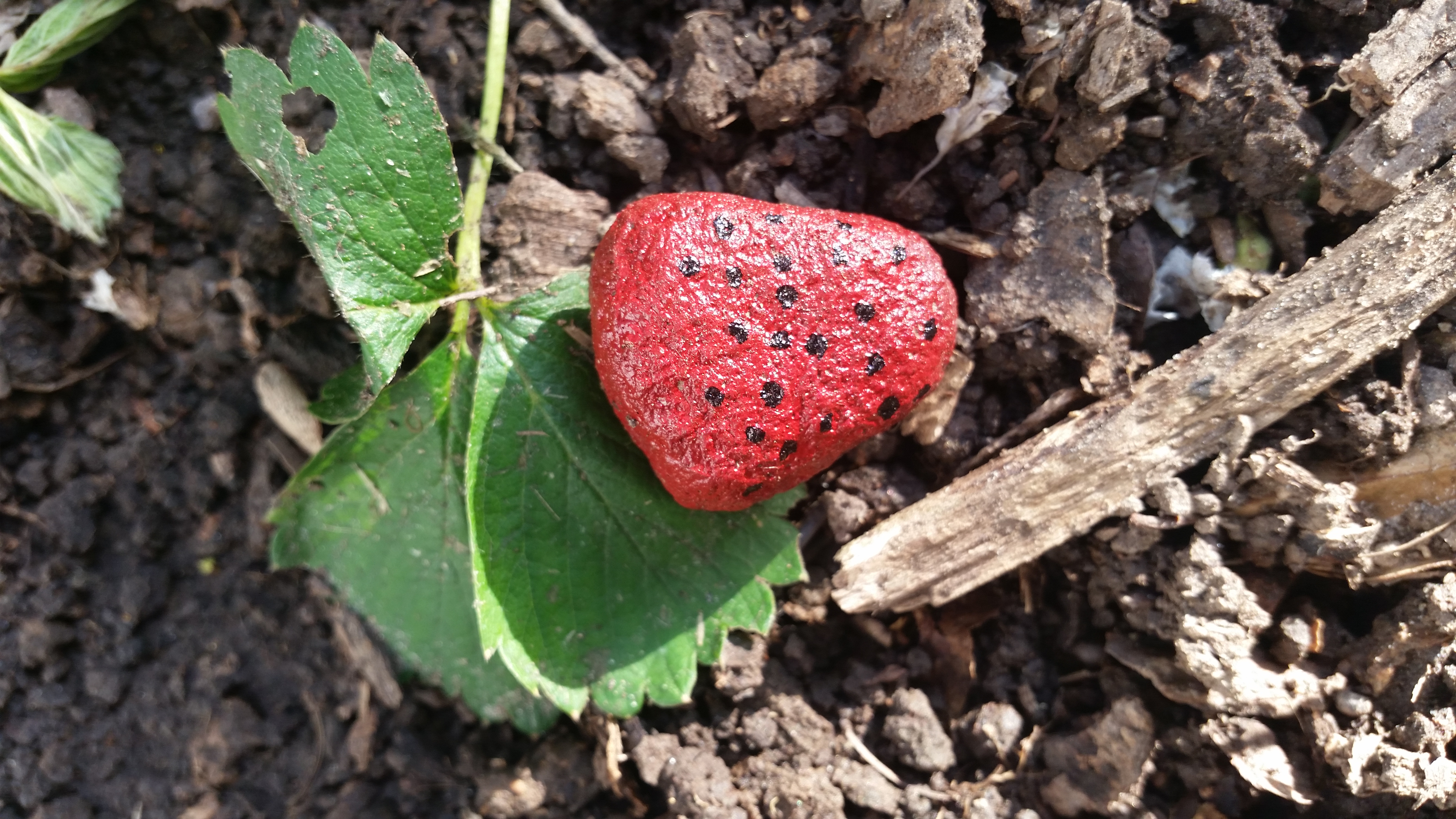 I still have a long way to go to turning this area into a thriving herb garden, but so far, I'm really happy with how it's turning out.  And the kids are already planning fairy rock houses and rock towers and bridges.
Now when I walk into the house, instead of sighing, I smile.