It's written on the back of all their coffee mugs:  the mind is the athlete.  And right now, my mind is racing trying to absorb everything that I learned this weekend at ZAP Running camp.  Strangely, I think most of what inspired me this weekend has very little to do with actual running.
ZAP is an elite training center near Blowing Rock, NC, less than a two-hour drive up the Blue Ridge mountains from where I live in Asheville.  The coaching program I follow, Runners Connect, offers a 3-day running retreat twice a year and I signed up this spring along with a couple dozen other runners I had never met.  We lived dormitory-style, sharing meals, runs, coaching sessions, and pieces of our lives.
I arrived Thursday afternoon and met the coaches and my roommate, Laurie.  We unpacked and got ready for our first run in Moses Cone Park, a beautiful trail system that includes a flat mile loop around Bass Lake.  We were told to run whatever pace and distance we wanted to and then meet up for a ride back to camp.  I fell into step with a group of three other women going the same length as I was and we circled the lake and headed up the trail called The Maze.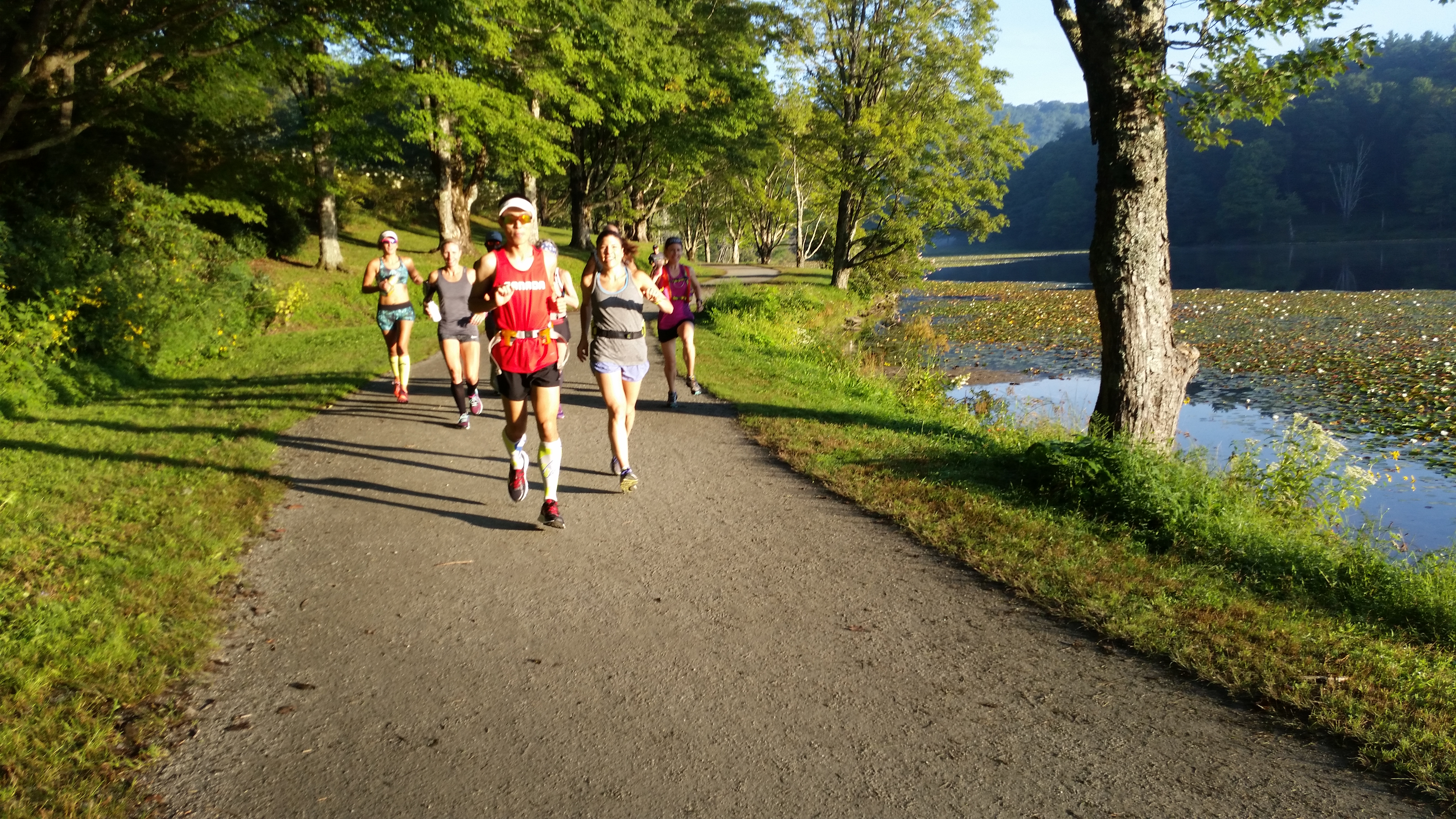 Now when I say "trail,"  I actually mean smooth packed gravel road wide and gentle enough for a car to drive with ease and closed to cyclists.  These are not the rocky and rooty single-track trails that I am used to back home.  We could run 4 wide and the only obstacles we had to avoid were those left by the horses that share the paths.
Dinner each night was created by Chef Michael who clearly knows how to fuel elite runners.  Choices like roasted beets, homegrown tomatoes, veggie paella, roasted parsnips and carrots, beans and rice, and enormous salads filled my plate every night.  Bowls of fresh fruit were always available and there was always something sweet for dessert.
After dinner, we introduced ourselves around the campfire and got to know each other a bit.  There were runners from all over the country as well as two Canadians.  Everyone there had different training goals and backgrounds but we were all there because we are passionate about running.
The next morning we headed back to Moses Cone for our run of the day.  I had a ten miler on the schedule with the middle 6 being close to marathon pace, so after a warm up on some of the hills, I stuck to lake laps on my own with my headphones on.  I was surprised at the effort I needed to give in order to crank out those fast miles.  Granted, we were at 1000 feet higher elevation than I'm used to, but still, I was expecting it to be easier.  I'm happy that I hit my splits, but I knew that the 18-mile fast-finish on the books for the next day was going to be challenging.  But that was the whole point.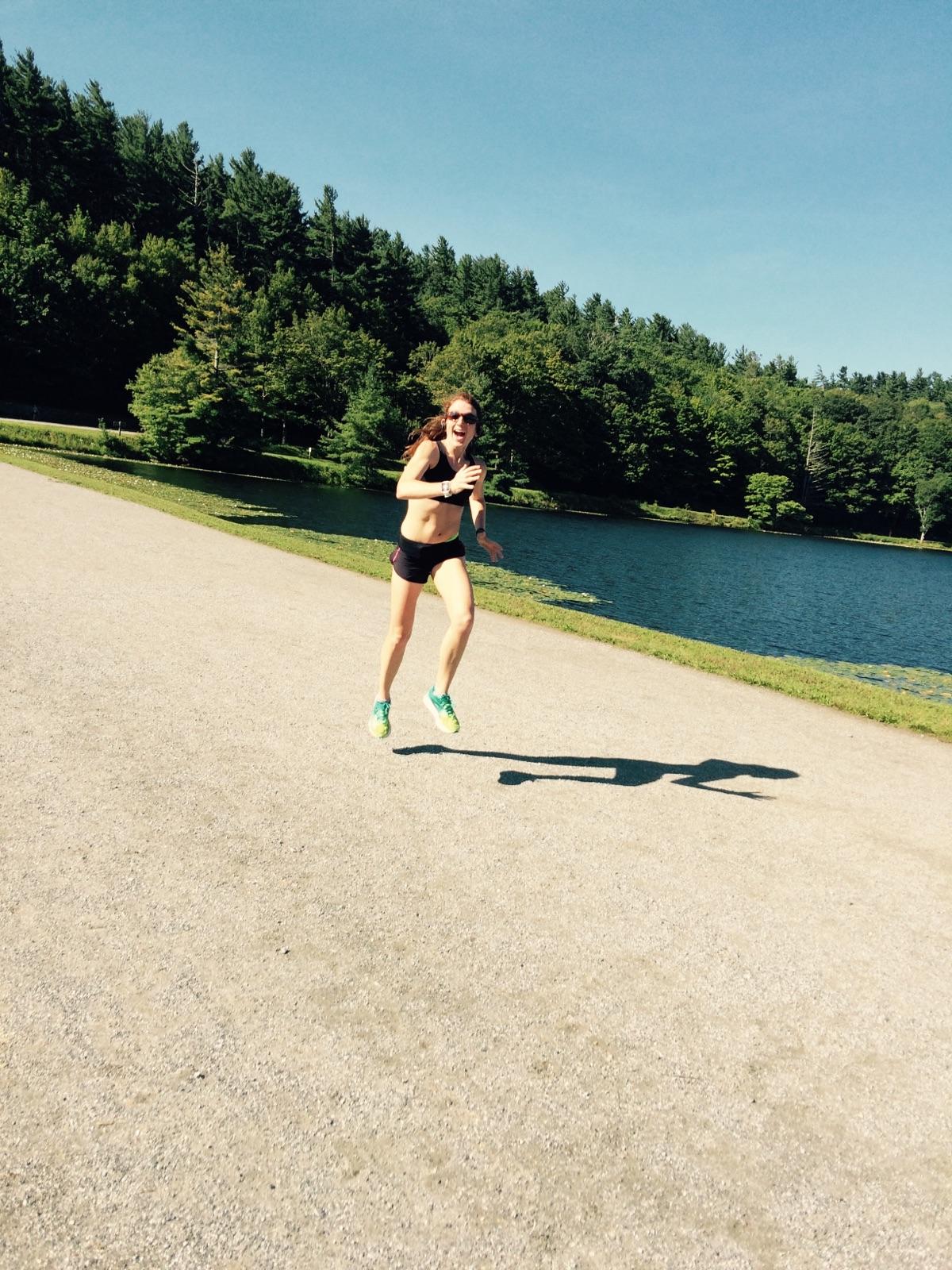 After our runs, the afternoons were filled with strength and stretch classes, visualization techniques, video gait analyses, nutrition for runners talks, individual coaching sessions, and mental strength training classes.  I could write a separate post on each one of these topics and I probably will.  There were moments of inspiration in every single one of these sessions.  I was not expecting to learn so many real, tangible techniques that I can use in my running every day, especially on race day.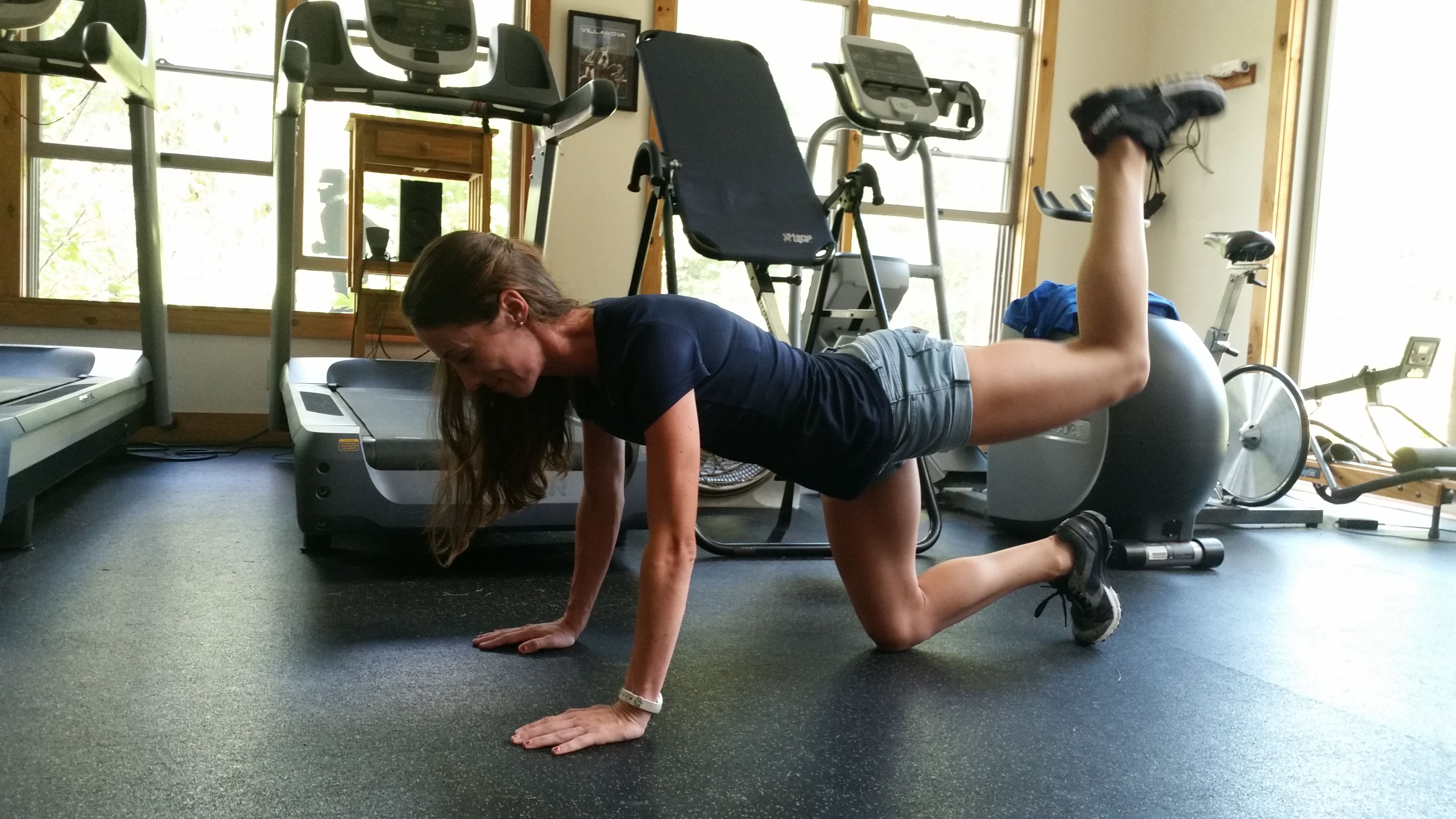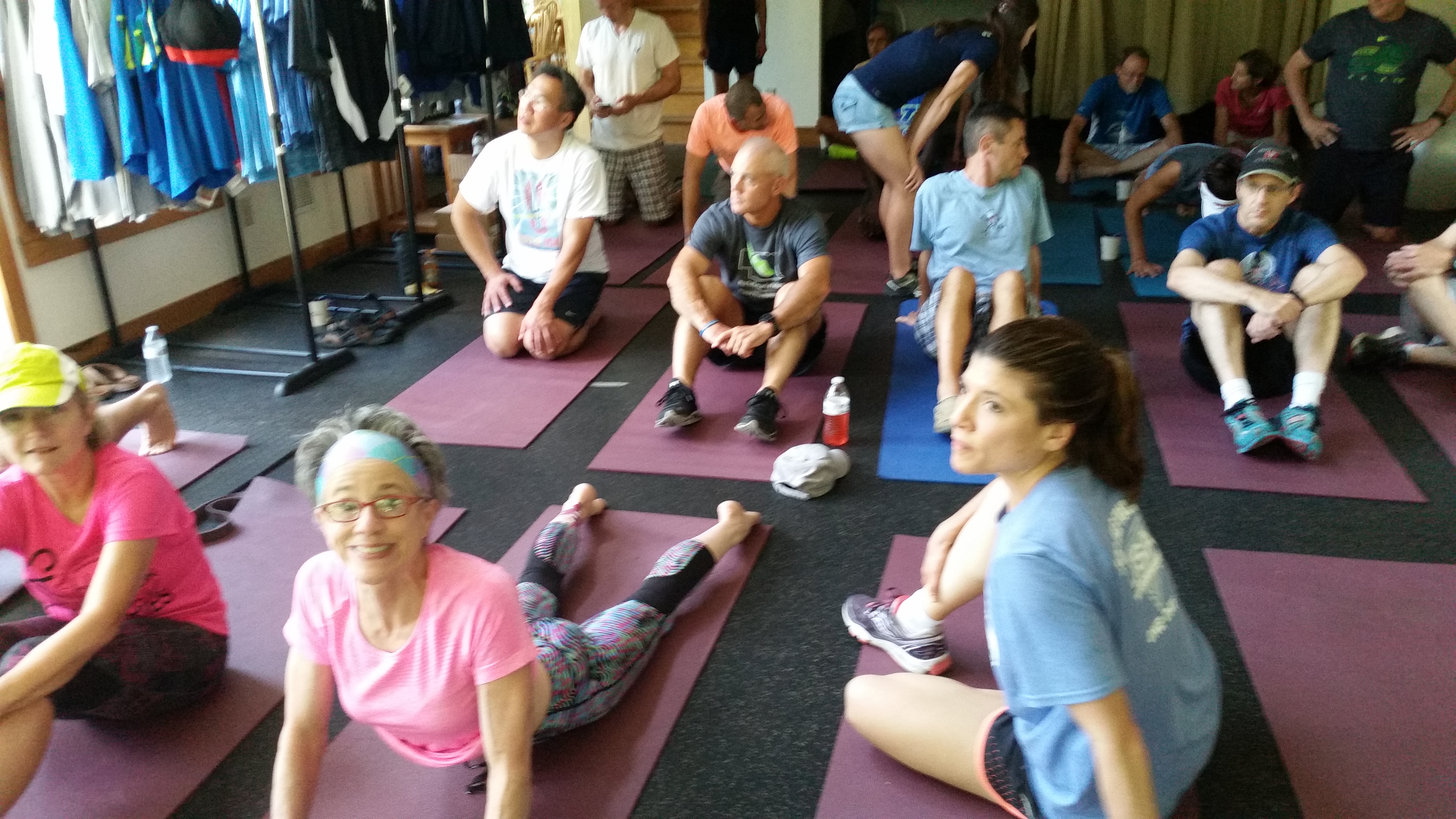 Saturday's long run was back at Moses Cone and I joined the group that headed up to the fire tower.  I knew that the climbing would make the three fast finish miles harder, but I couldn't pass up the opportunity to see the 360 degree view at the top.  I ran mainly with a woman named Andrea and we talked non-stop for two hours about our lives.
This is one of the magic moments in running.  It is not very often that you can have a deep conversation with someone for that length of time.  Even though we had just met, we shared personal details of our lives with each other and by the time we had reached the top of the fire tower, we were friends.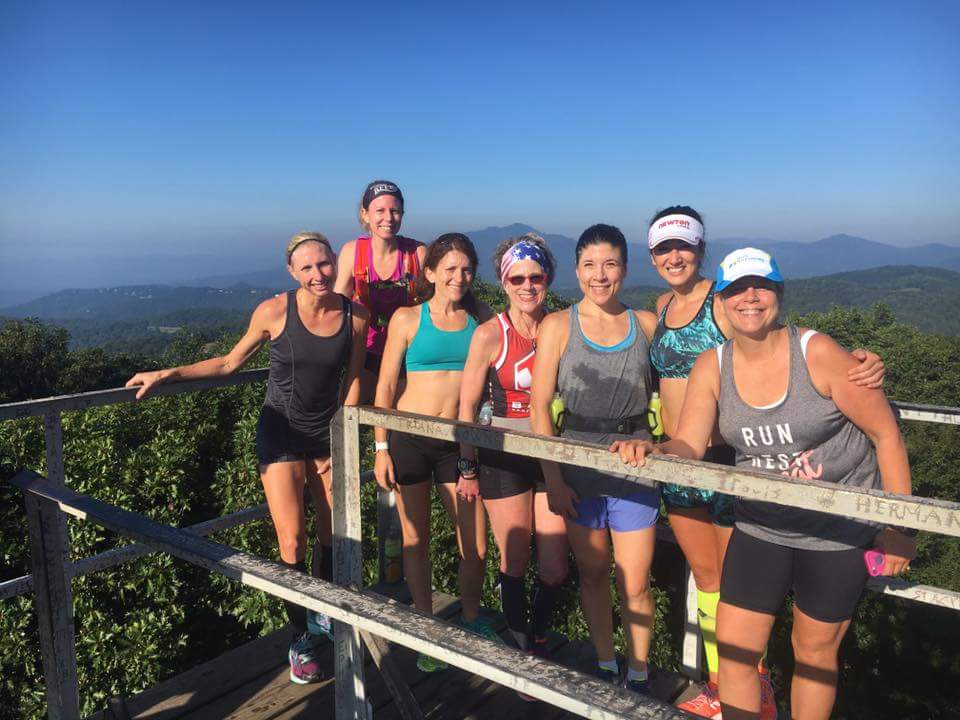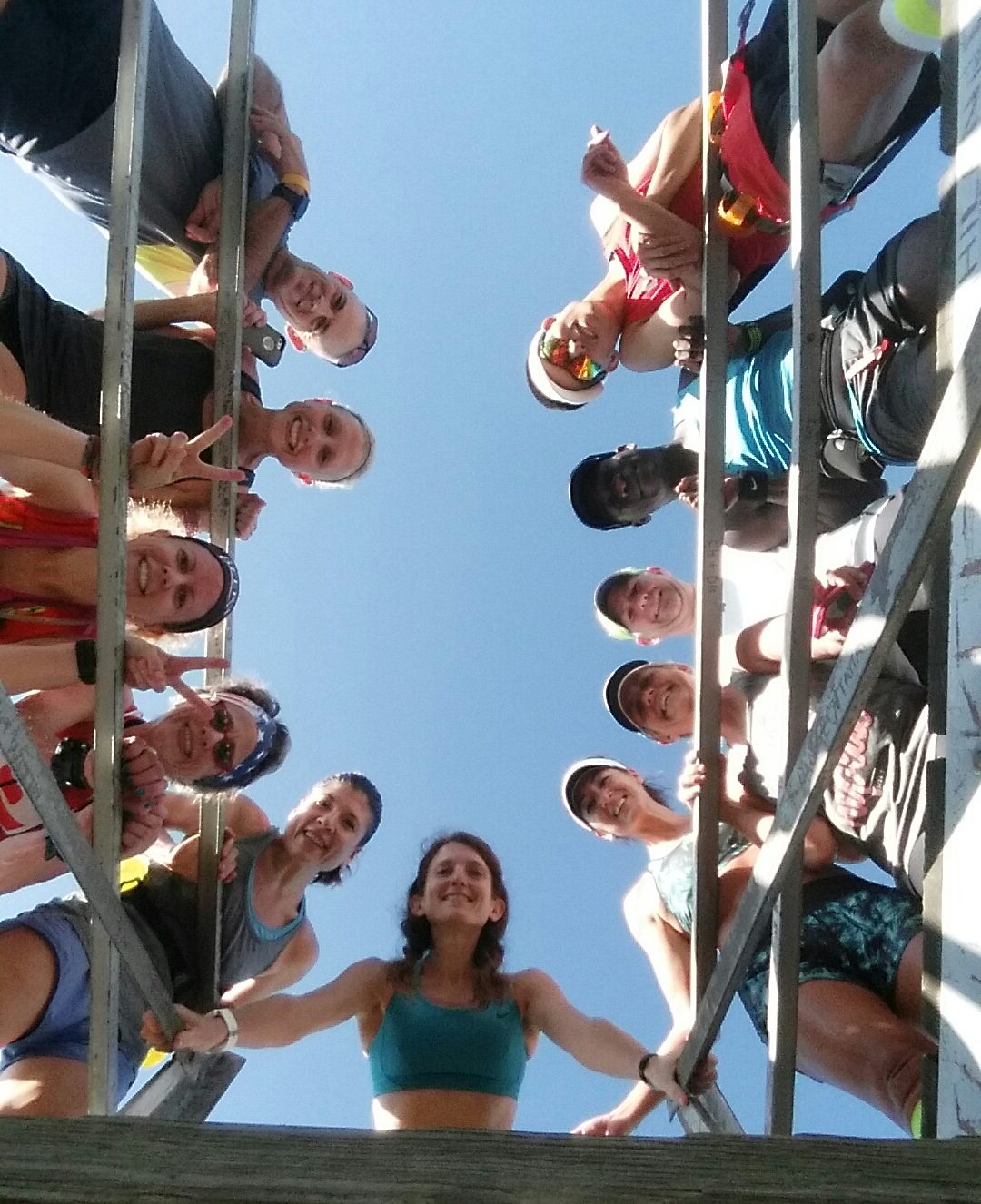 Back at the lake for my fast miles, I struggled to hit my times and didn't, but I wouldn't change a thing.
On our last evening, with our classes done and runs completed, we piled in the vans after dinner for ice cream and beer in downtown Blowing Rock.  Jeff Gaudette, the owner of Runners Connect, said that this was the first time everyone in the group had come into town together.  Our group had really connected in a way that not every one does.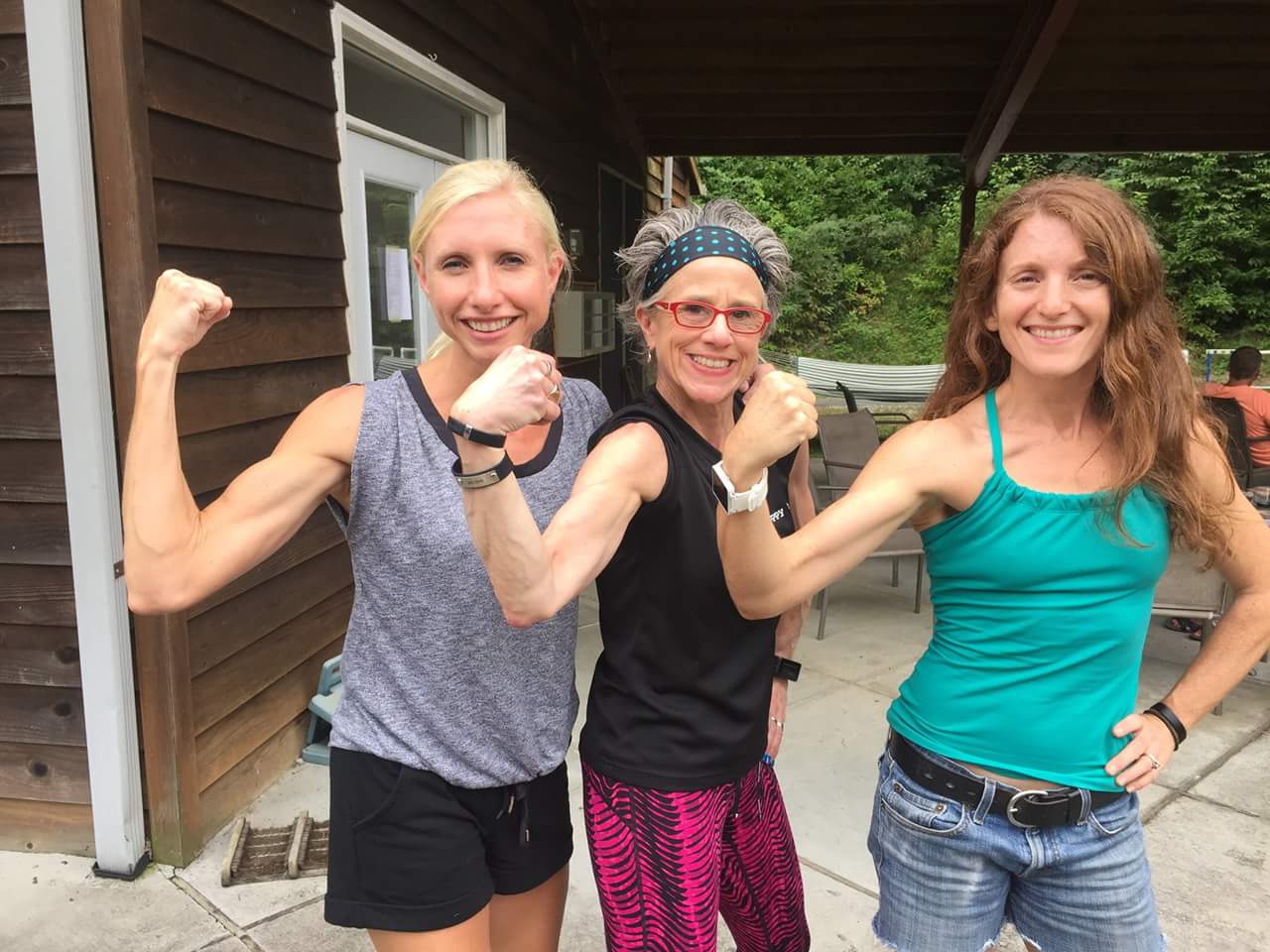 In the morning, we hugged and went our separate ways, wishing each other well on our upcoming races.  I have no doubt that many of us will see each other again.
Over the next days and weeks I will unpack some of the truly meaningful experiences I had at ZAP.  I am inspired and motivated in a way that I haven't felt since I got my first PR.  Lately, I have been hitting a mental point where I'm struggling to get to the next level in my training.  Now a have a few more tools that will help get me there.