Oven-dried tomatoes are great for runners. And they are one of my favorite ways to save the fresh taste of summer all year long. By concentrating the flavor and nutrients of perfectly ripe Romas, dried tomatoes are an amazing way for runners to eat our electrolytes after a run!
If you were to eat a half cup of these babies (about 27g), you'd get 4 grams of protein, 3.5 grams of fiber, all for around 70 calories.
But what I like about oven-dried tomatoes for runners is the rest of the nutrient profile. A half cup provides about 20% of your daily requirement of potassium, an essential electrolyte that runners need for muscle contraction and the transmission of nerve impulses. Calcium and magnesium, two other essential electrolytes, are also found in their chewy goodness.
I love to eat my electrolytes!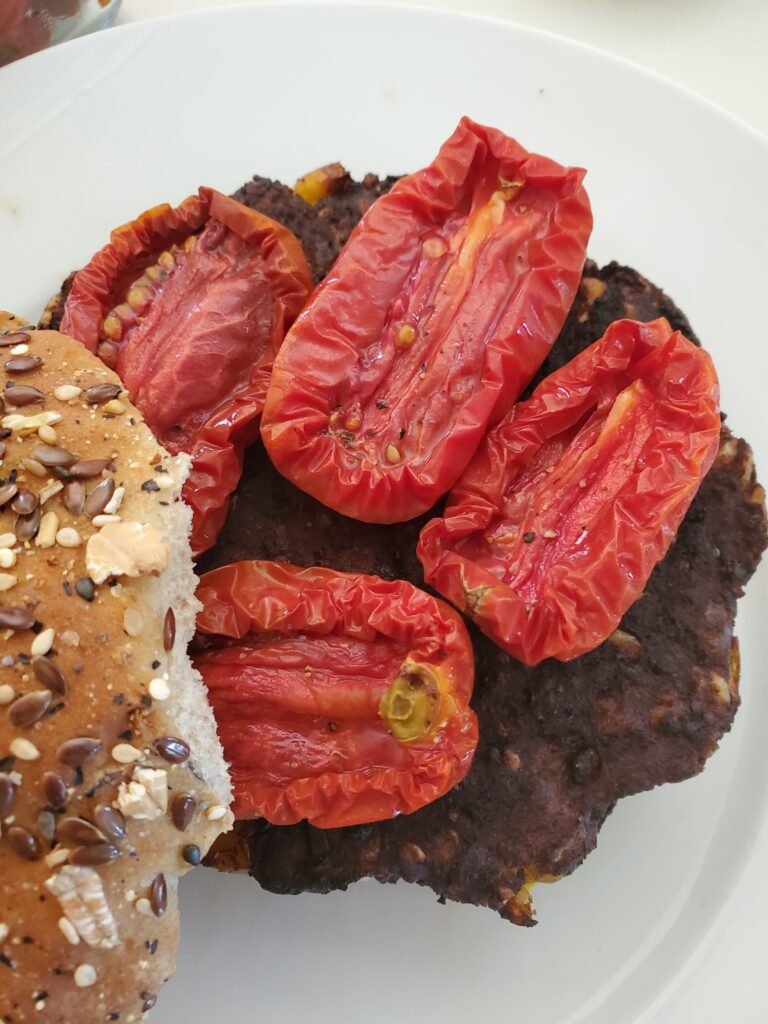 Runners, especially plant-based runners and women of child-bearing age, need to pay attention to their iron intake. Oven-dried tomatoes are full of it! A half cup gives men 41% and women get 13.5% percent of the recommended daily intake of iron.
And they taste amazing! They give pasta, salads, and veggie burgers a rich umami accent and can be blended into sauces, dips, and dressings.
My garden this year didn't quite produce the tomato bounty that I was hoping for. But a quick trip to the farmers market gave me all the Romas I needed to keep the taste of summer around just a little longer!
This recipe is incredibly simple, but it does take four to six hours in the oven to reach tomato perfection.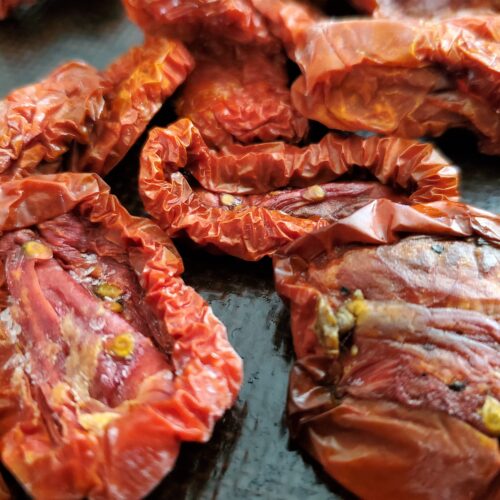 The Best Oven Dried Tomatoes For Runners
Capture the best of summer by drying tomatoes in the oven! Packed with concentrated flavors, vitamins and minerals, oven-dried tomatoes are a great way to eat your electrolytes and keep your heart healthy!
Ingredients
2

pounds

roma or plum tomatoes

1

tsp

sea salt

1

tsp

dried Italian herbs
Instructions
Pre-heat oven to 200 degrees F.

Slice tomatoes lengthwise and place cut-side up on a baking sheet.

Sprinkle with sea salt and dried herbs.

Dry in oven for 4-6 hours until tomatoes are shriveled, but still a little soft (not brittle).

Cool to room temperature and enjoy!

Leftovers can be stored in the fridge for several days or in freezer for several months
Notes
Oven-dried tomatoes are delicious chopped up with pasta, sprinkled on salads, or layered on veggie burgers!
Nutrition facts from nutrition.org.
If you'd like to drink your electrolytes instead, here's how to make a simple electrolyte powder for pennies!