I love recreating running recipes at home for much less.  And today, I'm going to show you how to make a cheap Generation UCAN alternative for much less!
Several runners I know, some at the elite level, swear by Generation UCAN. to fuel their races and workouts. It's a modified cornstarch and flavoring mix that you add to water and a tub of it costs about $60 price tag (around $2 per serving).
That seems excessive to me. So of course, I came up with my own recipe.
My Generation UCAN alternative costs just pennies a serving!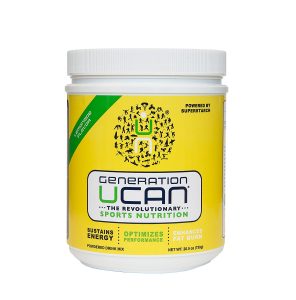 My inner skeptic alarm goes off every time I go to the UCAN website (and so does this guy's in a surprisingly funny and geeky post about the UCAN hype). We are talking about cornstarch, right?  The cheap-as-dirt thickener for gravy that can be found at any grocery store for pennies?
Well, yes and no.
First a little background on UCAN.  It was developed initially to treat people with a rare condition called glycogen storage disease (GDS).  People with this life-threatening condition cannot properly store glycogen and their blood glucose levels fall to dangerous levels while they sleep.
In 1984, it was discovered that ingesting uncooked cornstarch before bed kept patients' glucose levels in the desired range and dramatically improved their lives, many of them children.
Cornstarch is cheap, simple, and effective.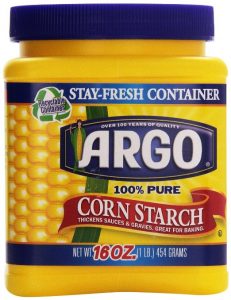 The only problem with uncooked cornstarch therapy?  After about 4.5 hours, glucose levels start to fall and a second dose is required.  Parents still had to wake up their children in the middle of the night to feed them.
So the scientists came up with a modified form of cornstarch that kept glucose levels stable for 8-10 hours and patients could finally sleep through the night.
Then someone had the bright idea to apply the technology to another group of people who struggle with maintaining steady glycogen levels: endurance athletes.
And UCAN was born.
You can dive deep into the rabbit hole of the science if you like to learn why starch might be better than glucose, fructose, or maltodextrin and you can learn about carbohydrate and fat-burning until your eyes glaze over.
But what I'm after is a solution that is easy on my stomach.  And starch could be the answer.  UCAN claims that because starch empties the stomach quickly and is slowly but completely absorbed into the bloodstream that it is very gentle on the stomach.
That is what I want!
Any source of carbohydrate can give me enough fuel to get to the finish line fast, but if I can do it without my stomach revolting the entire time, I'm in.
But do I really need super-expensive UCAN?  Wouldn't regular cornstarch work?  After all, UCAN was developed because cornstarch "only" keeps blood glucose levels steady 4.5 hours.  I'm certainly not running longer than that and even if I were, I'm wide awake and could take a second dose.
What does the research say?  Well, UCAN's own researchers compared Argo brand cornstarch to UCAN and glucose levels with Argo were only 9% lower after SEVEN hours versus UCAN.  They didn't test (or didn't publish) results after shorter duration, probably because they are likely to be quite similar until the four to five hour point.
Cheap cornstarch from the baking aisle probably works just as well as UCAN!  The only difference is the duration of the effects which can be solved by taking another dose.
So I came up with my own recipe for a UCAN alternative that was easy, cheap, and effective.
Cornstarch and water mixed together is pretty gross tasting, so you need to flavor it somehow.  At first I tried a teaspoon of lemon juice with a couple of tablespoons of corn syrup and a few drops of vanilla stevia liquid.  It was fine, but I was hoping to come up with something that is all powdered so it's easy to transport to any race.
Then I found an awesome, all-natural drink mix called True Lemon.  It's made up of crystallized lemon, lemon oil, a tiny bit of sugar, and a little stevia.  And it's less than 13 cents for an 8 ounce serving!  Perfect!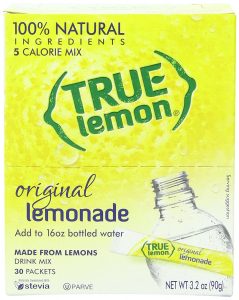 After coming up with this recipe a few years ago, I used it to fuel all my races, including my marathon in Phoenix where I broke 3 hours!  No tummy troubles and no crashes.
How does my homemade UCAN alternative version compare to lemon UCAN?  A single-serving packet of lemon UCAN (not the scoop) contains 28 grams of carbohydrate, 110 calories, 230mg sodium, and 140mg potassium.
My version is 30 grams of carbohydrate, 136 calories, 219mg sodium, and 87mg potassium plus a small amount of magnesium and calcium.  I'm not going to pretend it's as delicious as a fresh-squeezed lemonade (neither is UCAN), but it is not bad at all, just a slight chalkiness.
Let me know what you think!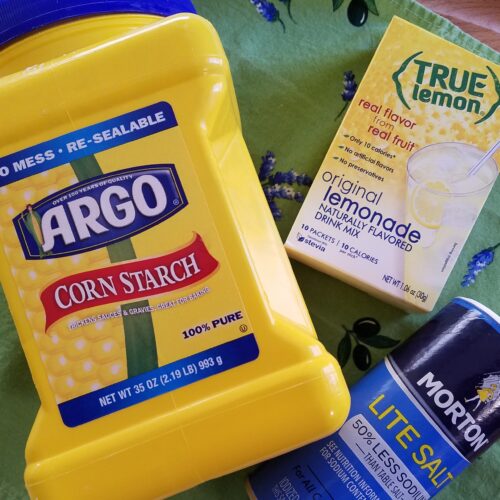 DIY Generation UCAN
A homemade version of the popular race fuel that can be made for pennies!
Ingredients
8 2/3

tbsp

cornstarch or tapioca flour

(70 grams)

1

packet

True Lemon drink enhancer

1/8

tsp

salt

1/8

tsp

Morton's Lite Salt

16

oz

water
Instructions
Mix all ingredients together and pour into two 8 ounce fuel bottles.

Cornstarch will settle to the bottom, so be sure to give it a shake before drinking.
Notes
30g carbohydrate, 219mg sodium, 87 mg potassium
---
When you are ready to transform your life and your running, I'm here to help. Begin your plant-based running journey with me today!
---