The Southern Appalachians are on fire.  Extreme drought combined with carelessness and arson have set the mountains ablaze leaving the valleys choked with smoke.
When the wind shifts, the grey haze clears and blue skies return.  When it shifts again, the smell of wood smoke clings to our clothes and the ashy air fills our lungs.
Needless to say, this has not been a good month for running.
When I left for my long run yesterday, the skies were blue and the air smelled fresh.  I am back on marathon training again and this was my first 20 miler in many weeks.
The schedule called for 12 miles easy, 6 miles fast, and 2 miles of easy cool down.  I had hoped to run a couple laps around Lake Summit, a pretty 9-mile loop in the county south of us, but by the time I drove down there, the blue sky had turned to haze.
I turned around and headed back to Asheville.
The first easy miles were quite nice.  I jogged through the city listening to NPR podcasts in the sunshine.  I could feel the steady 10 mile run from the day before in my legs a little, but that was the point.  I was supposed to run on tired legs to simulate the conditions of a marathon without actually running 26.2 miles all at once.
When I dropped down to the river and ran towards the park, it was like hitting a wall of smoke.   Ugh, I thought.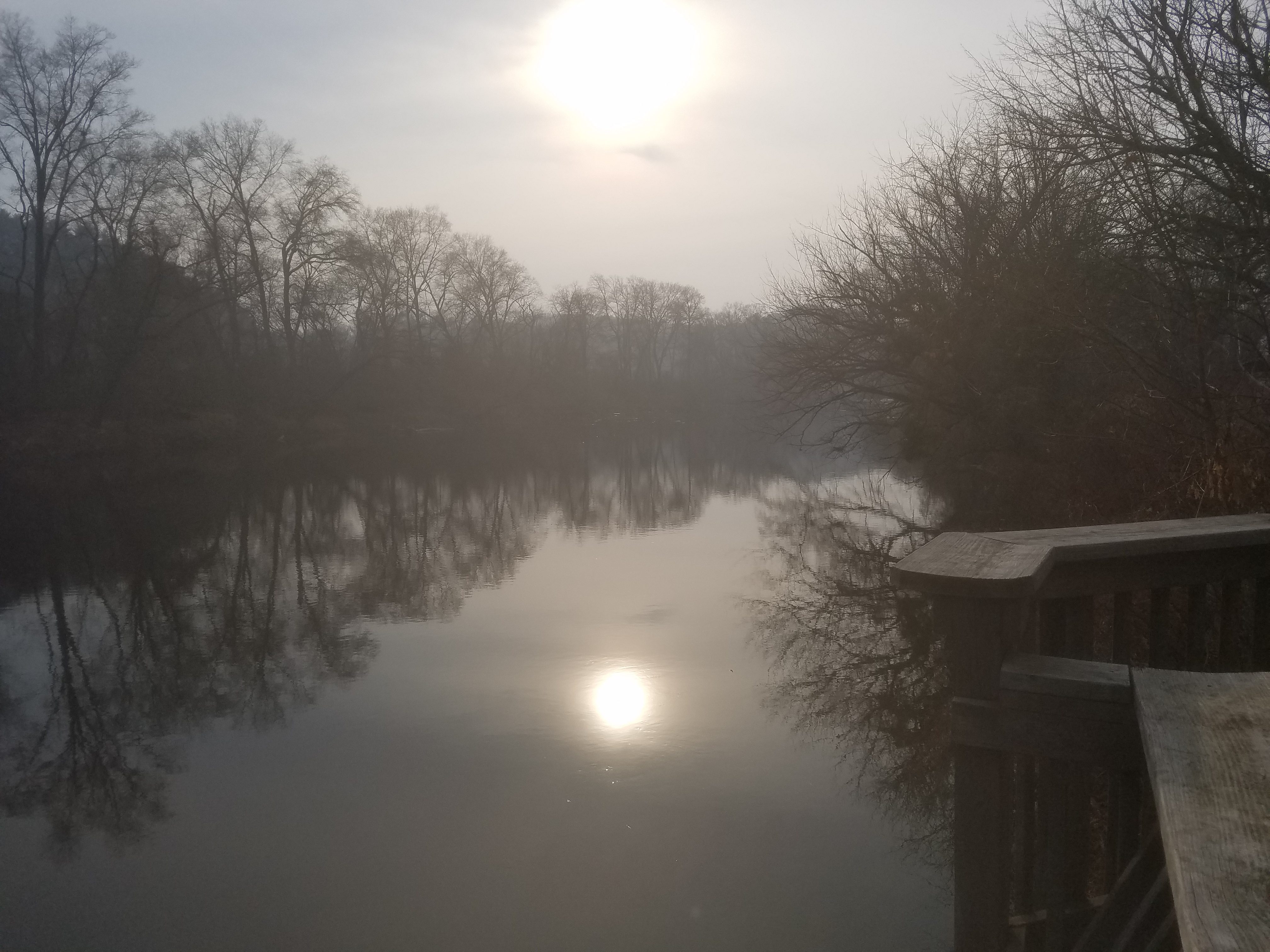 Maybe I should just go to the treadmill and finish this, I thought.  But I was on mile 11.5 and I was over 2 miles from home, a mile of it straight uphill.
I really don't want to run on the treadmill and mess up the run.  I'll just see how it goes.
It was not a great idea.
The plan called for those fast six miles to be 10-15 seconds faster than marathon pace or 6:35 pace.  And that's AFTER running 12 miles on tired legs.  When I read that, I smiled and knew I wasn't even going to attempt that.
Because of my recent fast finish in the half marathon, my assigned paces in my workouts have gotten much faster.  The only problem with that is that longer distances are my strength.  My maximum speed probably hasn't increased that much; I can just keep it up longer.
So trying to run half marathon pace on tired legs at mile 12 isn't going to happen and I wasn't going to try it.  But maybe marathon pace (6:50-55) wouldn't be too bad.
I decided I was just going to do the best I could.
The first mile was slow (6:57) and the second was even slower (7:04).  I was breathing much harder than normal for that pace and every breath forced the smoky air deeper into my lungs.  My legs were starting to feel sore and heavy.
Okay, this is dumb, I thought.  I'll just do one more fast mile and run the rest easy.
But then the third mile came in at 6:43.  The tension I was feeling about the run and the smoke and my legs hurting simply evaporated when I saw that number.  A visceral wave of pain relief seem to flow over me and for just a moment all my discomfort vanished.
Just three more fast miles.  Finish it.
I turned the corner both literally and figuratively and my resolve strengthened.  As hard as it was to breathe and run each stride, I was not going to quit.  Not this time.
The final three miles came in right on pace:  6:55, 6:52, 6:49.
It was not fun.  It did not feel good at the time.  I don't recommend running through wildfire smoke.
But I got through it.
This run is like adding another arrow to my quiver.  When it is time to slay the marathon beast, I can pull this one out from my memory and use it to keep fighting.
The forecast calls for the rain to start tonight.  So much rain, in fact, that there is a good chance of flooding.
Hopefully, it will be enough to extinguish the wildfires and wash the air clean.
I never thought I'd say this, but I can't wait to run in the rain.