I love pesto, and grow lots of basil each year so I can make it ALL. THE. TIME. But typically pesto is full of oil, cheese, and pricey pine nuts. My Oil-Free Vegan Green Pea Walnut Pesto uses the power of peas to make this a protein star, while still including healthy fats from walnuts.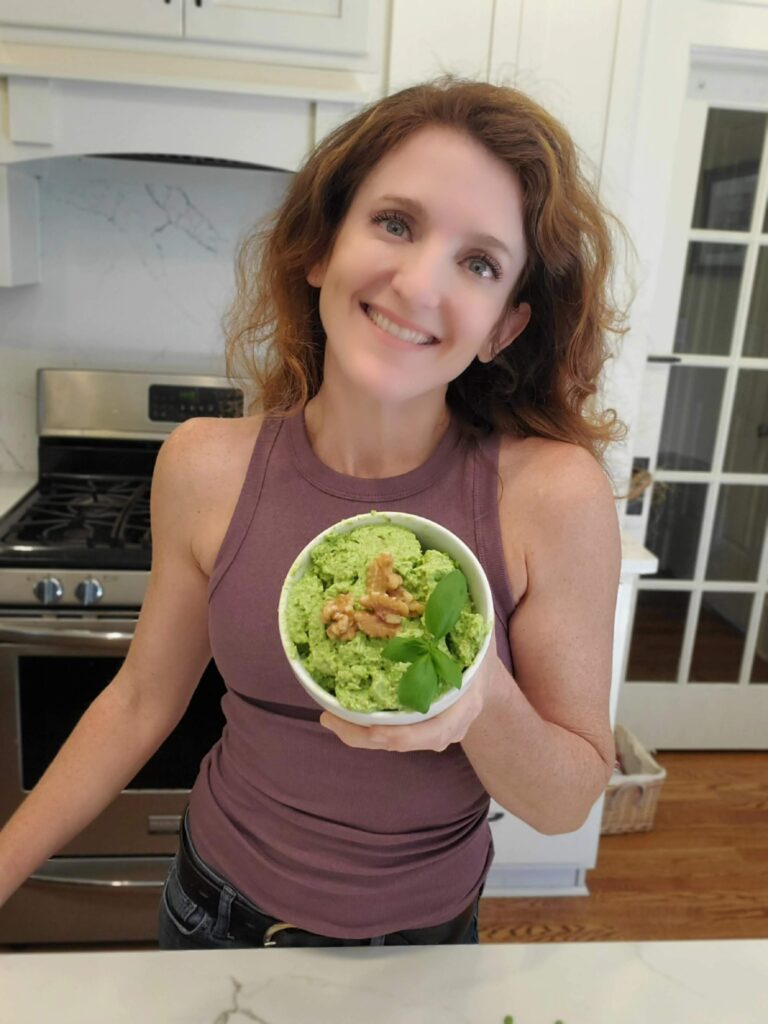 Green peas are an under-rated plant based protein source. They are also rich in fiber, anti-oxidants, and lots of vitamins and minerals, like vitamins A and K and iron.
Peas are also cheap, easy to find, and keep for a long time in the freezer!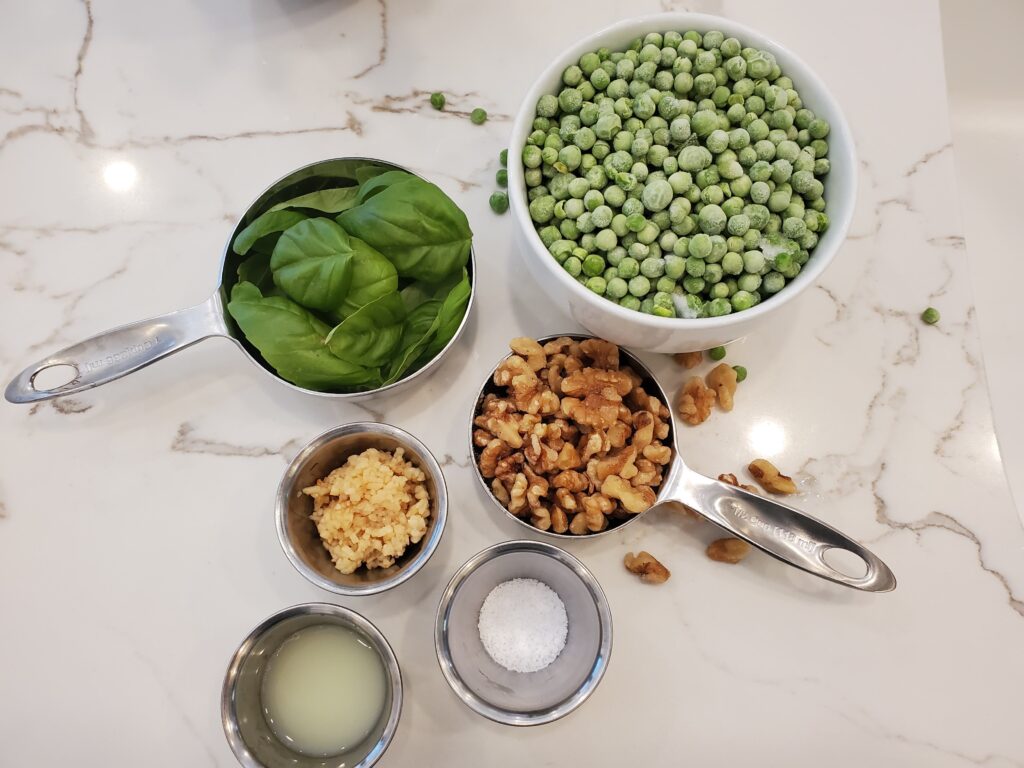 Walnuts are rich in ALAs, the precursor to omega-3 fatty acids. In fact, walnuts are have the highest, ALA content of most common nuts! Getting enough omega-3s can be more challenging to get enough of on a plant-based or vegan diet, so walnuts are a great addition.
I make this vegan green pea walnut pesto all the time, especially in the spring. You can spread it on toast or crackers, dip carrots, cucumbers, or tortilla chips in it, or fold it into a steaming pot of pasta.
You might need to thin it out a little bit with water if you use it as a pasta sauce. I usually save a cup of pasta water before draining to thin my sauces.
I hope you love it as much as I do!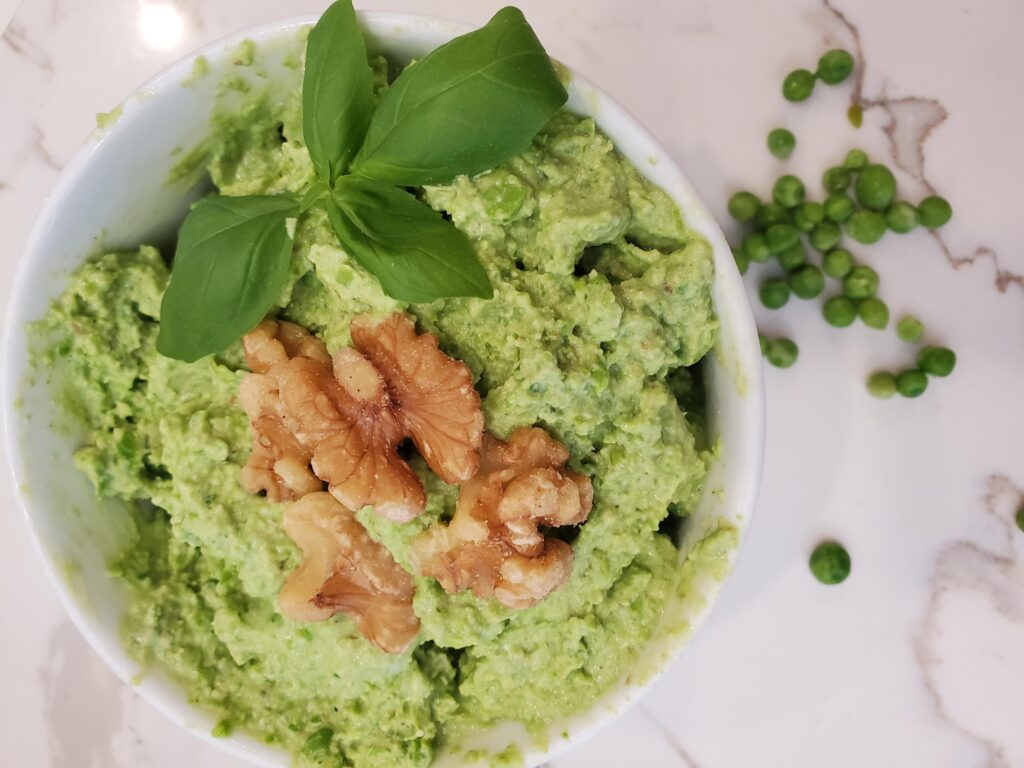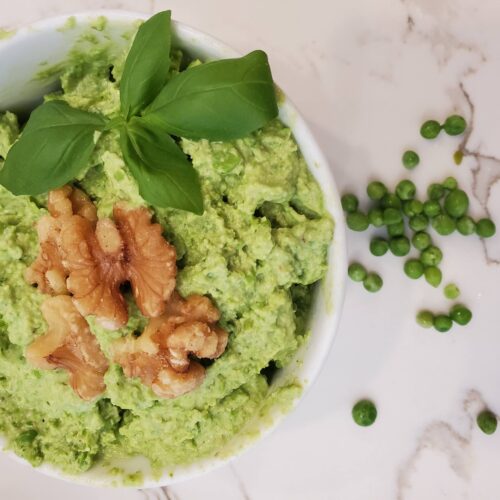 The Best Green Pea Walnut Pesto, Oil-Free, Vegan
Rich green pea pesto with the healthy fats of walnuts, with no dairy or added oil. Simple, cheap, and delicious!
Ingredients
2

cups

frozen peas, thawed

1

cup

fresh basil

1/2

cup

shelled walnuts

4

cloves

garlic

1/2

tsp

salt

2

tbsp

lemon juice
Instructions
Add all ingredients to a food processor and process until smooth.

Add a couple tablespoons of water as needed to thin.
Notes
Each 1/2 cup serving contains 7.5g protein, 14g carbohydrate, 13g fat.  High in potassium, vitamins A, C and K, and a good source of calcium and iron.