I don't like watermelon.
There's something about its weirdly sweet flavor which is just, well, so watery.
But my kids love it.  They beg for it.  They would eat nothing but watermelon for dinner if I let them.
So every summer, I buy watermelon, cut it up for the kids and I eat none of it.
Then the other day, I got the latest copy of Nutrition Action, an awesome monthly publication created by the dedicated people at the Center for Science in the Public Interest.
You know, the food lobbyists for the people, yo!
CSPI created scores for fruit by calculating the percentage of the recommended daily intake of seven major nutrients plus fiber and carotenoids.
What are carotenoids? you might ask.  Carotenoids are phytonutrients that give fruits and veggies their bright colors.  They act as antioxidants in the body fighting inflammation and protecting against disease.  Well-known carotenoids are lycopene, beta carotene, and lutein.
Watermelon was scored second highest on the Nutrition Action list, right behind guava (which amazingly was twice as high).  Two cups of watermelon has a score of 302, while an apple only weighs in at 34 with a difference of only 10 calories.
The publication makes it clear that all fruits are good for you so it isn't necessary to only eat guava and watermelon while shunning apples, but adding a few more fruits that are higher on the list is probably a good idea.
Watermelon, in all its watery voluminousness, is also great for helping you feel full without costing a lot of calories.
But I don't like watermelon!
So maybe I'll try to find a guava.
Okay, I didn't try too hard to find that guava, because I came home with a watermelon.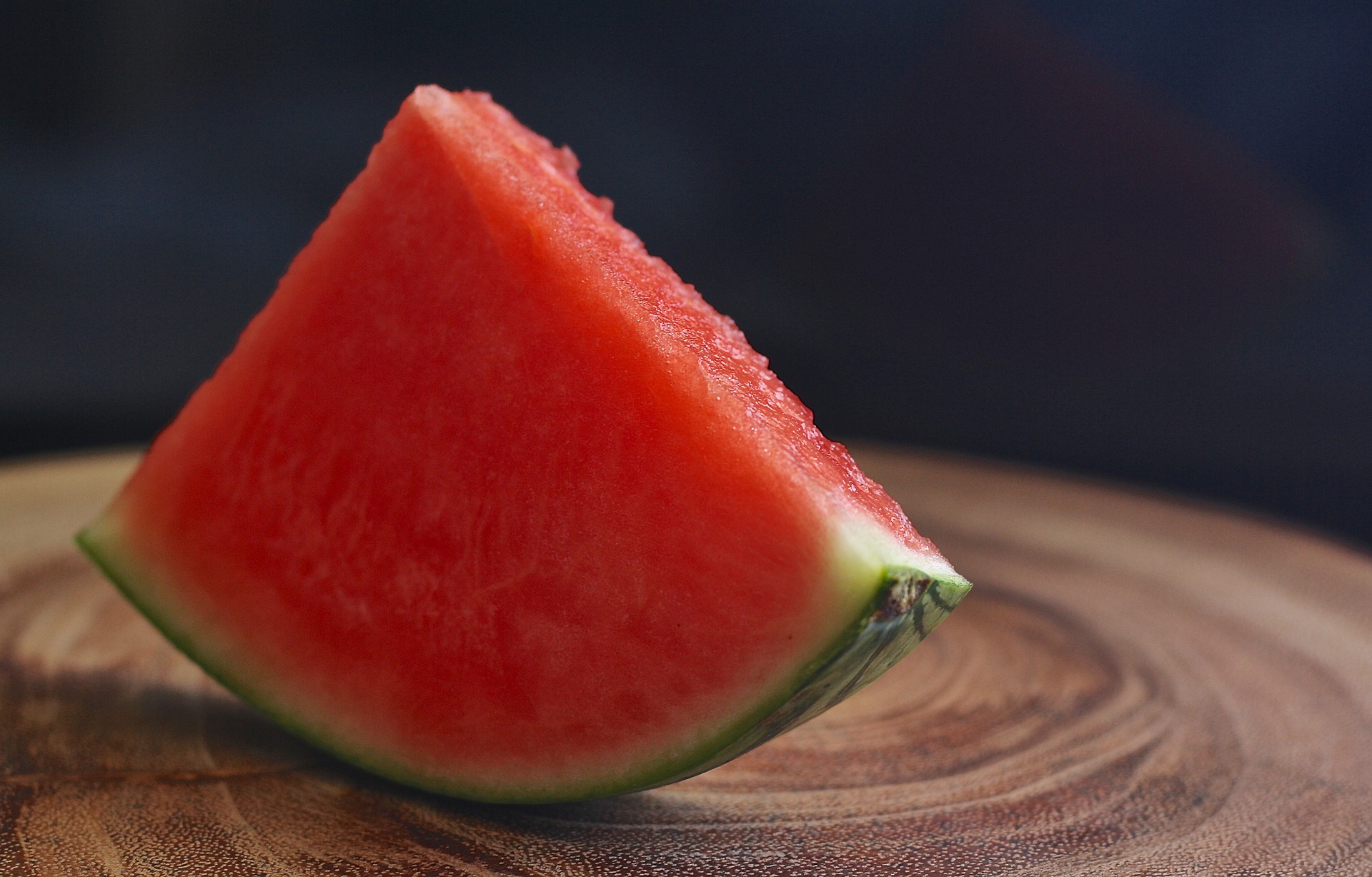 Later that night, my husband cut it up for the kids as usual and I decided to figure out a way to like watermelon.
At a dinner party years ago, some friends served mango for dessert dressed with a little lime juice and salt.  It was a delicious combination so I thought I'd try it with the watermelon cubes.
Complete transformation!
The salt cut the sickly sweet taste of the watermelon and it became fresh and tart with the lime juice.  I ate my 2 cup serving and then went back for seconds!
It's the perfect combo to eat cold out of the fridge after a hot, sweaty run.  Two cups of watermelon provides 23 grams of carbohydrates, 2 grams of protein, and almost no fat.
But the vitamin and mineral content is where watermelon is a superstar for runners.  It provides 34% of your RDA of vitamin A, 42% of vitamin C, plus calcium, iron, magnesium, phosphorous, and potassium.  And when you sprinkle a little salt on top, you are helping to replace the sodium you just lost in your sweat.
Natural glycogen and electrolyte replacement at its finest!
The carotenoid content of watermelon is also quite high, providing more than 20% of what you need in a day for optimal health.  So it's not just great after a run, but any time of the day.
One thing to remember is that carotenoids are fat-soluble, so sprinkling some sesame, hemp, or sunflower seeds on your frosty, limey, salty cubes is a great addition to make sure that all of those micro-nutrients are being absorbed well in your body.  It's also a good idea to get some protein with your carbs post-run, so those seed sprinkles are doing double-duty!
So often we runners like to over-analyze and over-complicate things.  We buy gels and powders and goos and gadgets that are supposed to make every facet of our fitness optimized to the nth degree.
Yet sometimes, we just need to take a step back and look for the simple choice right in front of us: whole, unprocessed food straight from nature.