Sometimes even the most motivated runners can find it hard to lace up their running shoes.  Maybe it's too cold or too hot or too windy or the covers on the bed are just too cozy.
Most of the time, we can push aside those thoughts and get on with our run and we feel better when we are done.
Other times, the lack of motivation seeps deeper into the insecure cracks in our psyche.
One particular runner that I coach with Runners Connect is struggling to find the answer to "why?" every day.  She questions why she struggles to get out the door and also struggles to find the reasons why to run at all.
My advice to her was to work on finding the joy again.  The simplest way I have found to do this is by volunteering.
The idea of volunteering sounds quite noble when you are considering it.  You are helping out a cause, doing a service, providing support.
The positive energy you are rewarded with, however, feels completely self-serving.
The act of moving from contemplation to actually volunteering is generally met with some of the same negative thoughts that keep us from getting out of the house to run.  Maybe it's cold and raining or maybe you won't know anyone or maybe it feels like a big time commitment in an already busy life.
Yet like running itself, if you can push past the initial resistance, you will feel better when you are done.
Our family has begun a tradition of volunteering at the local Turkey Trot water station each Thanksgiving Day.  It's a fun activity that the whole family can get involved in that doesn't cost anything and is immensely rewarding.
Getting thanked by thousands of runners for the simple job of handing them a couple ounces of water is the perfect antidote for any holiday-related stress.  We work together as a team and have a sense of accomplishment when the last cup is cleaned up.
It's also so wonderful to see people of all ages, shapes, sizes, and abilities running or walking the exact same race.  The participants are all choosing to spend part of their holiday doing a healthy activity with their friends and family and it's truly inspiring to see.
Encouraging the best out of others is a short step away from encouraging the best from yourself.
This past weekend, I paced the Girls on the Run 5K for the second time this year.  It was a cold and rainy morning, but that didn't stop a thousand girls and their families from participating.
The run is an easy pace for me so it is all joy with little work.  The crowd warmed up by dancing in the rain before the start, which was simply adorable.
The girl that ended up finishing first was named Maya and she and her mom held a steady pace of around 8:30/mile for the first two miles, which included some hills.
Then, about a half mile to go with a boy about her age ready to close in on her, I told her to give it everything she had.  It was all downhill at that point.
I held her Santa hat that she had taken off and she picked up the pace.  She pumped her arms and we dropped below seven-minute pace to the finish!  That girl is an athlete!
I love having the opportunity to give back, because it give me the (perhaps selfish) satisfaction of helping others enjoy the sport I love.
It reminds me to remember the joy in running when sometimes I get too preoccupied with paces and races and workouts.
It inspires me get out the door when it's too cold or too hot or too rainy because I know it's worth it and I will feel better when I am done.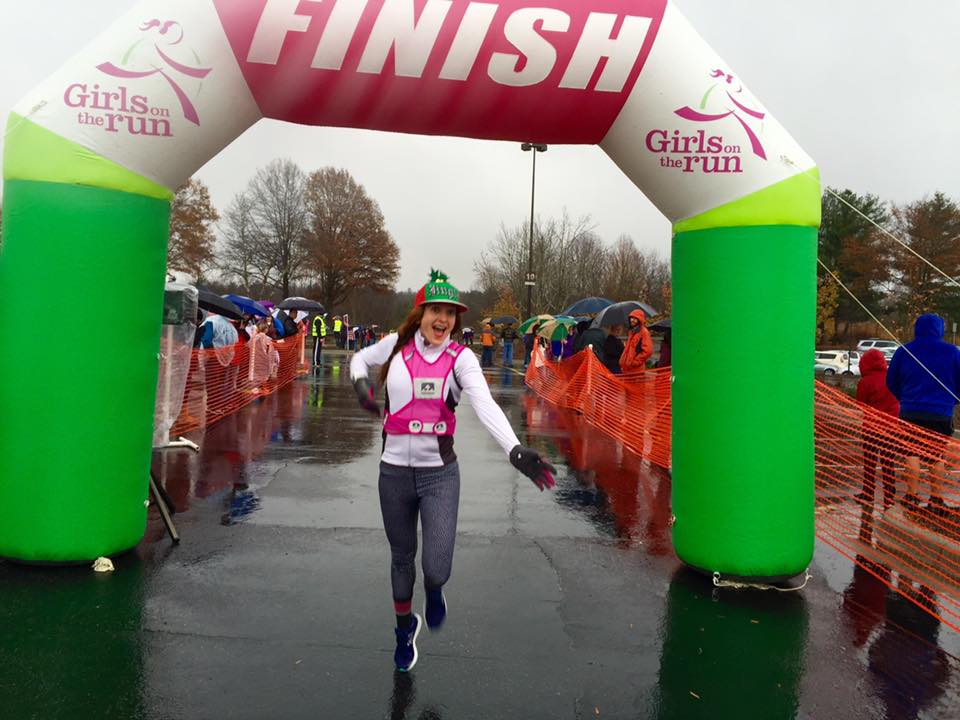 When you log so many miles alone, it's easy to forget that there is an incredible community of runners out there.
When you volunteer, you remember.